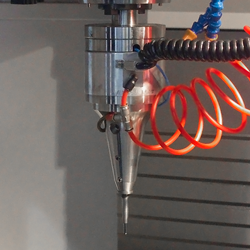 This is the Head that performs the mechanical peening operation. It is electromagnetically controlled and air-cooled. It produces the Lorenz force that causes the striker to reciprocate and make contact with the workpiece surface. Working stroke generally ranges from 0.2 to 1.0 mm. Frequency rate can range from 20-500 hits per second. Impact force is up to 180 kgs per hit, variable from 0-100%.
Interchangeable shank with integrated spherical hardened and coated steel tip. These come in a range of sizes from 1mm to 25mm diameter. Custom striker forms can be produced. For most applications strikers last a very long time.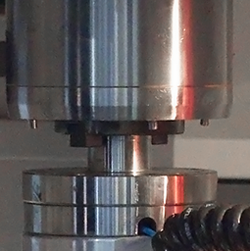 This interchangeable flanged adapter or customized fixture secures the peening hammer to the machine tool spindle or housing.
Electrical cord that provides DC power from the electronics power supply unit to the peening hammer.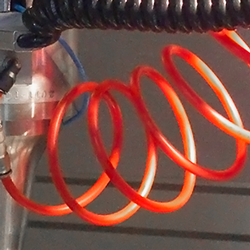 Supplies compressed air for cooling the hammer body.
High performance multi-processor CPU necessary to drive the Accurapuls ThorCam Software.
Proprietary CAM software required to control the CNC machine for peening operations on 3D geometries. Capable of up to 7-axis programs, code is generated from parasolid files for the workpiece. Unique features such as sharp edges or pin holes in the surface are recognized by the software and preserved from harm during peening operations.
This cabinet mounted on rollers houses the electronics power supply, high performance computer, LED display monitor, keyboard, mouse, and handheld pulse generator.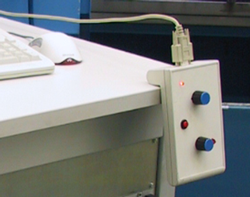 Hand-Held Pulse Generator
Handheld unit with two rotary dials that permit operator to control peening frequency from 20-500 hits per second, and impact force from 0-100%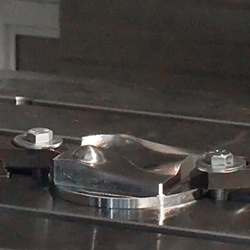 Any machined component whose surface will undergo the micro cold forging or machine hammer peening process. See 'APPLICATIONS' for examples.
Any controllable machine or apparatus used to secure the peening hammer in place and manipulate it against the workpiece surface. This can range from a conventional 3-axis CNC milling machine or 2-axis lathe to any custom-designed equipment or robot depending upon the workpiece and application.